During research for the Panic 1982 Box Project, Cabel and I came across a unique Package Design Time Paradox: game boxes, made over 20 years ago, that look as if they could have been designed yesterday.
For the game developer Accolade, the period between 1984 and 1990 marked a serious and unbeatable streak of awesome. We're talking bold, timeless art; none of this so-bad-it's-good nonsense. Click 'em:
It's obvious that all these games are from the same company, and yet the variety of illustration/photo/type styles is fabulous. That Killed Until Dead image: how understated and powerful is that? Who does that sort of classy thing with video game covers anymore? (No, really, who? Please feel free to tell us!) Take heed: the simplicity and clarity of these boxes has given them eternal life.
Note also that since these are very design-y, often abstract covers, there's less potential for Box Disappointment™. I mean, Mr. Grumpy obviously won't be there in photographic flesh when you fire up Mini-Putt; no one expects that. But his curmudgeonly spirit will be, regardless of how many pixels he's built of. That's what a product box should ideally do: make the product more badass.
Unfortunately, right around 1991, as Accolade began to hire Boris Vallejo as a cover artist, things became… a little too much badass. And a whole lot less timeless.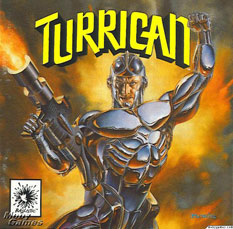 You had a great run, Accolade. I wonder who the art director was?
(All images found at the invaluable MobyGames.com. Oh, how many nostalgic hours we've spent there!)