We get e-mails:
From: Stewart Smith / Stewdio <stewart@xxx.org>
Subject: panic office photos
Date: April 30, 2010 7:44:43 AM PDT
I just saw some photos of your office and couldn't help but notice an Apple //e. I have an odd request. Back in 2005 I created a music video for the band Grandaddy by programming a text animation on an old Apple ][+. You can see the video here.
So for my request: would you do me the honor of running the source code on your old Apple //e and sending a few pictures? (Or even posting them to your Flickr?)
I imagine you could load the code onto the old machine by using my "cassette tape" source code file. The source code package is here.
Sounded like fun to us. Just one problem, though: we knew we had to load Stewart's "cassette tape" source into the Apple //e's audio input. But we didn't exactly have a cassette deck lying around.
What did we have? An iPad.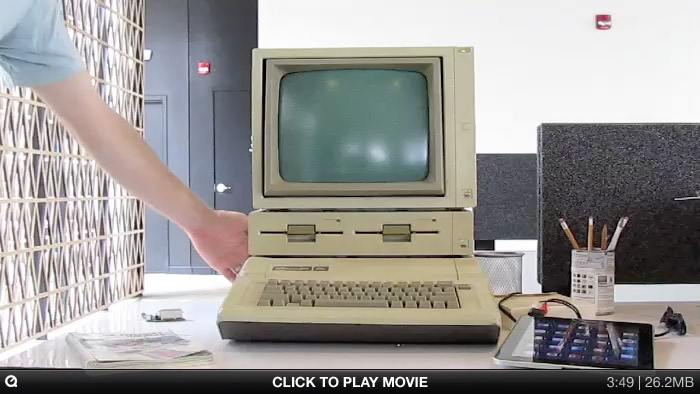 It's an obvious solution in retrospect, but there is something very unreal and amazing about tapping a button on a multi-touch screen and watching an Apple //e fill up with data — to quote Andy Baio, "that's like WALL-E connecting to EVE."