Like Minecraft? Then surely you'll love Mooncraft!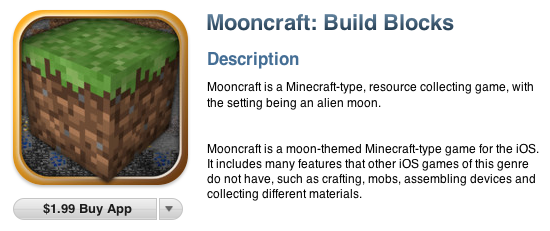 Except, well, you really won't. Really:
What happened here? It's pretty simple.
1. Scammer makes an extremely simple iOS app and submits it to Apple.
2. Once it's approved, they change the screenshots, description, and name — things you can edit at any time.  Piggyback off a popular game!
3. Buy hundreds of fake ★★★★★ reviews, somehow.
4. Sit back and relax as you slowly and gently travel towards hell.
This isn't Apple's fault, of course — it's bait-and-switch, the classic inch/mile situation that scammers rely on. How can Apple fix this? Being able to adjust screenshots/descriptions after submitting is important, and we don't want that to go away. And it'd be unreasonable for Apple to manually review all screenshot changes.
How about this: after an app hits the store, if it has nothing but 1-star reviews (that include text!), and those reviews mention keywords like "scam" a lot, flag it for further inspection?

I bet there's an algorithm out there that could find these apps pretty quickly.
Either way, Quang Nguyen (which might be a fake name, of course): you're a terrible person. (Thanks to Steve for missing the tiny popup button and clicking "Buy App" by accident.)
UPDATE 12/10/2012: For a while, Mooncraft was pulled from the store. But, of course, it's back.
UPDATE 1/10/2013: Apple has announced a new policy that screenshots can only be updated when they accompany a new application binary submitted for review. Hopefully that will put a stop to this particular type of trickery.