A while back, we posted about finding rare Panic boxes from our golden, miserable videogame era.
These 1982 Atari boxes are great and all (they are!), but many asked: what about the games? We took a short trip to our storage warehouse in Milpitas, CA and, after looking through more cardboard boxes than an IKEA BESTÅ, we found it: a single production cartridge of our lost CandyBar game for the Atari 2600.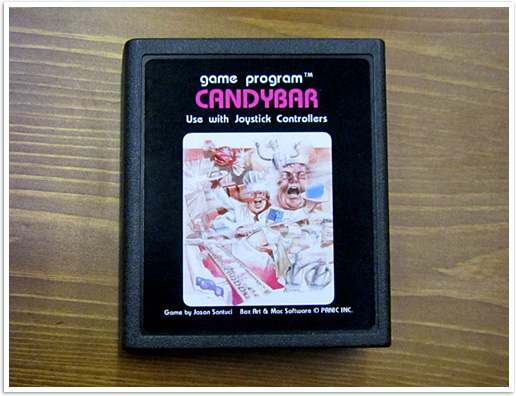 While it might not be an all-time classic, it's definitely real — and a real trip to play again.
Check out this video!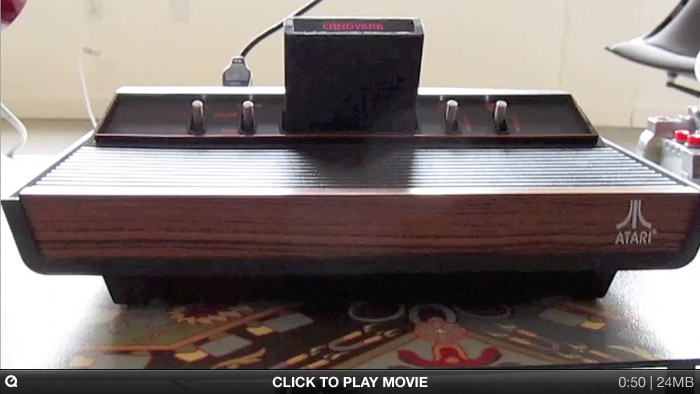 To quote from the box: "Oh no! A huge power surge has made everything go haywire in the candy factory and the Cookbots are making delicious candy bars faster than Chef Chéf can pick 'em and pack 'em! Hurry — grab the candy bar boxes off the conveyor and get them into the Hungry Icon's eager, waiting mouth!"
The manual further explains: "The Chef may move left and right across the conveyor belt. Press fire to pick up candy bar boxes once they are in front of Chef. Press up when making contact with Hungry Icon to feed it."
Is the game hard? Well, about that… due to the dev crunch, we, uh, forgot to add lives. Or health. Or any way to die. That's why marketing added the "for young children" callout on the box. We were all ashamed, but hey, we met our deadline and spent the afternoon in the hot tub. Is the game fun? Probably not.
But it's sure nice to see it again!
And yes, like our boxes and posters, this game isn't really from 1982. But this time, the real story is way better than the fiction.
The Real Story
TIGsource, an incredible site for indie game developers (run by former Panic intern Derek Yu) had an inspired contest: A Game By Its Cover. The idea? Take a fictional, funny game box, and make an actual, genuine game for it. You can check out all the amazing entries here.
Jason Santuci wanted to enter this contest. So he Goog'd around for ideas, and somehow came upon our fictional Atari 2600 boxes. Then he made an actual Atari 2600 game. Then he made a manual. Then he somehow made an actual Atari cartridge for us.
To summarize: a real app became a fake retro artwork joke which became a real retro game based on the fake artwork for the real app.
I love it. I also love that 2600-ized Finder icon.
Jason has the final word: "The competition at TIGSource got me off my butt to create this thing. Batari BASIC gave me the tools to do it. I'm sure some of your blog readers will take notice and spark their imagination. Indie Game development and Atari 2600 for the WIN!!!"
Better yet? If you're handy with emulators, you can download and "play" CandyBar for yourself! Enjoy!
One More Thing: Retro Super Sale
It's true: for the holiday season, we've dramatically slashed the prices on our retro posters and boxes!
A set of four retro boxes is now $9, and a set of four retro posters is now only $15.
I promise you: this is the coolest Panic collectible for you or your loved one. No internet can contain the quality, attention-to-detail, and awesomeness of these goods. We hope you like them!