Quick: what's a good, one-color icon shape that says "clear"?
A circle with an X? A circle slash? No, this isn't delete — this is like clearing the list in Safari's download window. Just removing things you don't need to see anymore. A little brush, dustpan style? Without color, it reads as a paintbrush, and seems too detailed.
As it turns out, this is tricky. Apple solved this problem… by using the word "Clear".

Cheaters! Well, fully understandable cheaters.
Well, for your curiosity, here's what the Panic Art Department has come up with so far: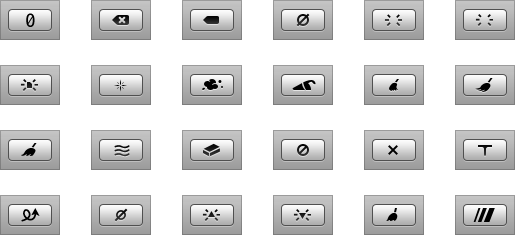 Our final choice? None of these. You'll have to wait for a future software release to see what we decided on. (Yeah. Total mocktease.)
As a side note, amazingly, Google dug up an actual patent for "CLEAR DATA FROM A BATCH QUEUE" ICON FOR A DISPLAY SCREEN OF A PROGRAMMED COMPUTER SYSTEM. Well, that sounds perfect!

Yeah… I don't think we're going to use that one.