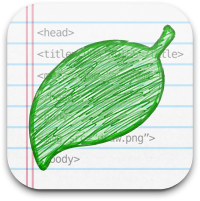 At long last! Coda Notes, a fun Safari Extension we introduced at this year's WWDC, is now officially available for download!
To recap, the idea is this: Coda is a great tool for web developers. But how can we make life easier for the web client, or the marketing person, or the person not developing the website but who still has a hand in the process? The person who has to give notes and ideas on web development?

It's simple: Coda Notes lets you annotate web pages.
Use the pencil to scribble some drawings or thoughts.
Highlight areas of the page.
If you make a mistake, click the eraser and clean up.
And, most awesomly, edit text live on web pages.
Add sticky notes to call out thoughts. As many as you'd like!
Also, one Pro Tip: click the pen or highlighter buttons multiple times to change colors!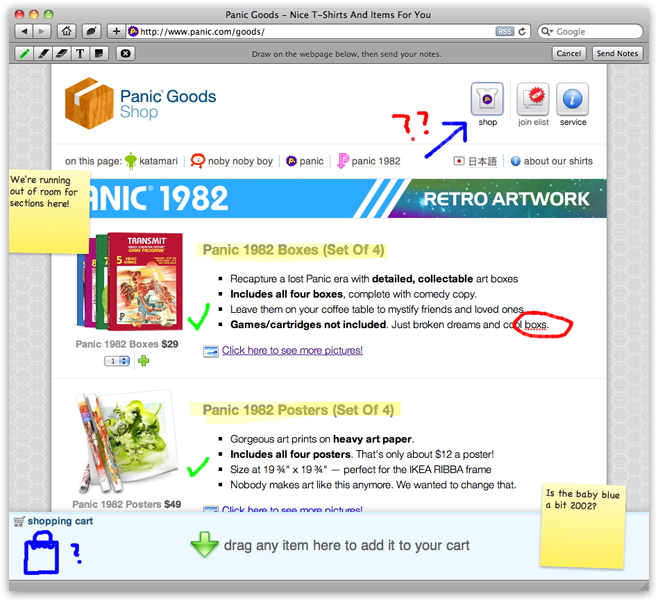 Once you're done, hit "Send Notes" in the toolbar and a screenshot is taken, placed on a little postcard, and emailed to anyone you choose.
Your notes are sent through our email server¹. Which is as good a time as any to mention our privacy policy: this emailing process is fully automated, and we will not retain your images for any reason. Once your image has successfully sent, it is immediately and automatically deleted, never to be seen again. That is all.
Finally, it gets better:
Coda notes is completely free. Just download, double click, and use.
Coda Notes is a Panic side project, but you can feel free to e-mail any bugs to support@panic.com and we'll file them away. Most importantly: enjoy!
UPDATE 10/19/2012 — Coda Notes 1.2 adds compatibility with Safari 6 / Mountain Lion. Go to Safari Preferences > Extensions > Updates to get it.
UPDATE 4/17/2014 — Coda Notes 1.3 adds compatibility with Safari 7. And since we are unlikely to do many updates in the future, we posted the source to GitHub!
¹ Why do it this way? Sadly, it's not possible for Coda Notes to save a screenshot directly to your disk — Safari Extensions can't access the filesystem for security reasons. Similarly, we can't send your screenshots via Apple Mail, since Safari Extensions can't launch or script other applications. This was the best way we could think of to e-mail a thing from an extension.