One of the best foods in the US can be ordered and enjoyed some nine blocks from my house. At Pok Pok, a restaurant where you can discover a new favorite each time you go back, it's best to start out with chef Andy Ricker's amazing fish-sauce wings. And if you find yourself away from Portland, or the understandably long wait at the restaurant gets you down, make them yourself. It's as easy as any other chicken-wing recipe!
This is based on the Ike's fish-sauce wings recipe as printed in Food & Wine magazine. To feed 6, you'll need:
1/2 cup fish sauce
1/2 cup superfine sugar
4 garlic cloves, 2 crushed and 2 minced
3 pounds chicken wings, split at the drumettes
2 tablespoons vegetable oil, plus more for frying
1-2 cups cornstarch
bird's eye chilis to taste, seeded and minced
A few words about the ingredients:
Once you've tried these wings, the words fish sauce will fill you not with terror, but with a primal sort of craving. Like soy sauce, it's marvelous at adding savory, meaty saltiness to foods. And like soy sauce, it loves being combined with sugar. Head on over to your local Asian market and buy an extravagant amount of Southeast Asia's favorite condiment for under $2 – the best brands are Tiparos, Squid, and Three Crabs. Stay away from domestic imitations as they'll be weak and overpriced.
You can use regular sugar, but superfine sugar will dissolve in the fish sauce much easier. It's basically finely ground sugar. This is different from confectioner's (powdered) sugar, which also contains cornstarch.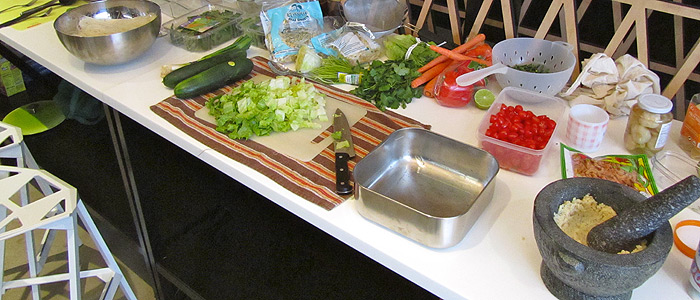 To start, grab the largest bowl you have. (No, not that one. Larger. Larger still. There, that one.) Whisk together the sugar and the fish sauce, and mix in the crushed garlic. Pat the wings dry and add them to the bowl; cover and refrigerate for 2-3 hours, tossing a few times to coat evenly.
In a small pan, fry the minced garlic until fragrant and golden, but not brown; drain on paper towels.
Time to fry the chicken: in a large and heavy pot (preferably a dutch oven) heat 2 inches of oil to 350 F. Use a candy thermometer if you have one; if not, drop in a piece of bread. When it makes a satisfying sizzling sound on entry, you're good; when the oil bubbles violently, you've gone too far. This would also be a good time to preheat your oven to 200 F and make room for a large pan with a rack set in it; you'll dry your wings here and keep them warm at the same time.
Pat the wings dry, reserving the marinade in the bowl. Transfer the marinade to a saucepan and heat over medium-high heat until syrupy.
Pour the cornstarch into a shallow, wide pan or bowl. Dip the wings in it one by one and toss to coat; shake them off until there's a dusting of cornstarch on the meat, but no clumps. Do this right before you drop the wings in the fryer; resist the temptation to coat them and let them sit in the bowl, as this would result in a less-than-crispy surface. Fry the wings in batches, making sure not to crowd the pot. They should turn golden-brown with specs of black; it should take 10 minutes or so per batch.
When the wings are done, drip them over the pot and place them on the rack in the pan, then return the whole thing to the oven. It's always a good idea to air-dry your fried goods instead of plopping them onto paper towels where they'll sit in their own grease.
Grab another large bowl and move all the wings to it. Pour the now-syrupy marinade through a strainer over the wings and toss to coat. Add the fried garlic and the chilies (if using, according to your heat preference) to finish. Serve on large lettuce leaves, sprinkling with chopped cilantro and mint if you're into that sort of thing.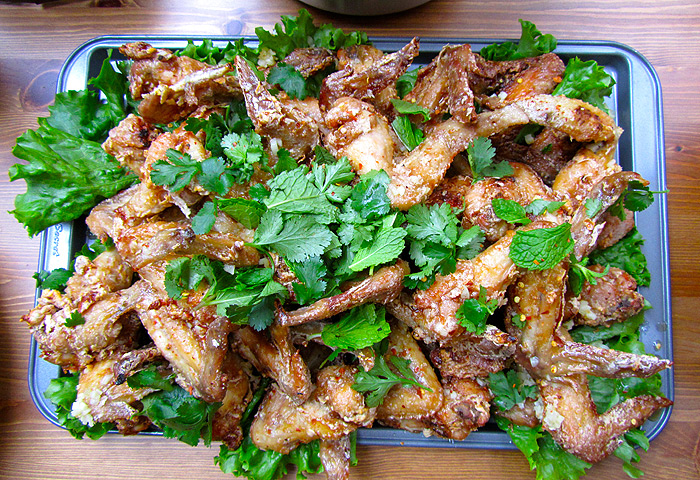 We made these at the office recently and they were a big success. Les made some awesome sides, and had this to say about the experience:
My contribution to the meal certainly could have gone more smoothly, but I survived.

For the green papaya salad, I once again referred to a recipe from the great She Simmers. I used a large granite mortar and pestle — strictly forbidden of course — but I was gentle and over-pulverizing generally wasn't a problem. Multiplying the recipe to feed a dozen people was tricky, but after an hour of tasting and adjusting, the result was close enough.

An additional challenge was in creating a vegan som tam for Mike and Garrett. I substituted the fish sauce with a mixture of seaweed-infused water, a bit of soy sauce, and pickled garlic.

I was also tasked with making sticky rice but I'm just going to say it wasn't my proudest culinary moment and leave it at that.
Very humble, that Les. Our newest employee, James, made bún salad. These crisp dishes were much-needed islands of refreshment in the sea of savory-sweet wingness.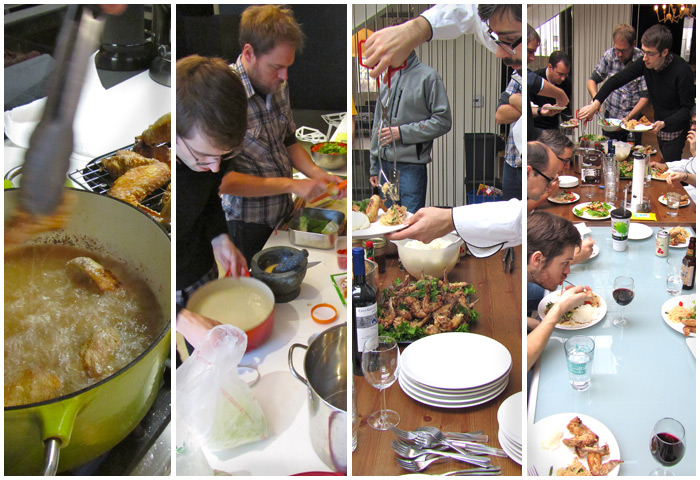 In conclusion: Check out Pok Pok, don't fear the fish sauce, snap out of the Pad Thai rut and explore Southeast Asia's delicious cuisine. Enjoy!