With the release of Transmit iOS and Prompt 2, we excitedly added two Panic Pack bundles to the App Store. Bundles are a great chance to reward loyal customers a little bit of a discount on our software — something that was not possible to do on the App Store previously.
Even better, customers can "Complete My Bundle" — if they've bought any of our apps, they can pay the difference to receive additional missing apps at a discount.
But once our bundles hit the App Store, some curious "Complete My Bundle" questions began to roll in. Pricing seemed to be weird or inconsistent. So we did a little digging and got some good tips on Twitter.
Here's all you need to know:
Complete My Bundle takes whatever money you've paid for the individual apps and applies that towards the bundle's fixed price. So, if you buy an app on sale, or use a promo code, your Complete My Bundle price can be different than someone else's, and in some situations it might be cheaper to buy the remaining app(s) individually.
That's it.
It explains a mystery like this: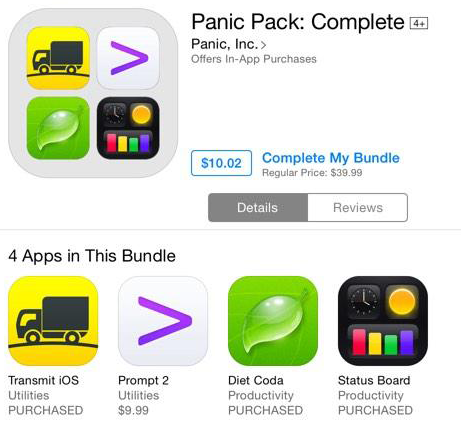 The user owns three of the four apps. Why would the user's Complete My Bundle price be $10.02, if Prompt 2 alone is $9.99?
Here's why: the user bought Transmit iOS for $9.99, Status Board for $9.99, and Diet Coda when it was briefly on SALE for $9.99. That's a total of $29.97 worth of "credit" towards the price of the bundle. Now, the bundle's fixed price is $39.99, based off current app prices. See where this is going? $39.99, minus $29.97 in credit, equals $10.02. Bingo. Don't complete this bundle.
Apple has just posted a useful Knowledge Base Article covering this issue (and others) — it's helpful information that we will likely be pointing our customers towards.
We hope this helps clear up any mysteries, and as always, we're very happy that you're buying our software and we deeply appreciate your support!