When some of our apps check for updates, they send along the Mac OS X version number, helpful in case we need to send a message to a specific set of OS users. The additional bonus of this (fully anonymous) data is that is gives us a very good look at where our users are, and lets us plan accordingly.
I took the last week's worth of data — including repeat launches, of course, but mathematically I think it all evens out, which is to say I'm terrible at math and have no idea if that's true — and made two charts.
Coda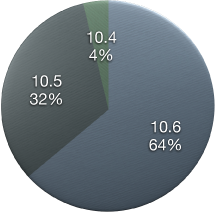 Coda users are famously cutting-edge, and this chart reflects it.
The Leopard/Snow Leopard dominance is strong, and it seems like Coda users are pretty adamant about running the latest and greatest. This makes sense for web developers, who, for the most part, really should be using the latest Safari.
But one chart, and one app, doesn't tell the full story…
---
Transmit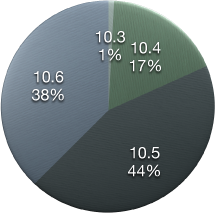 With a higher install base than Coda, and a much broader set of users — from web developers, to printing presses, to press photographers, to who knows what — the Transmit results are a bit different.
Hello, legacy!
17% still on 10.4. As most of our future software development is focused on Leopard or above, this means we'll have to keep our legacy apps around…
As Tim reminds me, 10.4 is the last OS that Classic still runs under, so is it possible that these 10.4 users are dependent on some extremely old piece of software?
If you're still using 10.4 or 10.5, what is your primary reason for holding back on an upgrade?
(It's also interesting to compare these numbers with The Omni Group. So similar!)