Here's a story you've probably not heard before.
The Beginning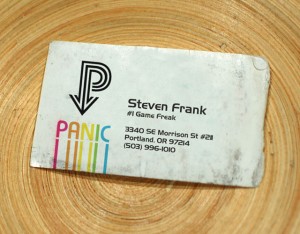 As you probably know, in the late 70's Panic was writing VAX/VMS automation code for the textile industry. Cotton attenuators, zipper sublimation, loom dynamics, that sort of thing. What you might not know is that, once the early 80's arrived, Panic got hit hard with two things: unkempt mutton chops, and Pac-Man Fever.
More precisely, Atari 2600 Pac-Man Fever. Programmed by Todd Frye over the course of mere weeks, and only very generally resembling the Pac-Man arcade title we all loved at the time, the cartridge nonetheless went on to sell nearly 7 million units.
7 million.. at $30 a unit.. yes, when you've been charging basic consulting fees for months of mainframe code, and you've got a room full of bored programmers, one begins to do one's math.
That's exactly what Panic's then-CEO, Russ "Raz" Rasmussen, did.
"You could fill one of those plastic cassettes with camel spit and those kids would still snap it up like over-eager turtles!", we were (seriously) told. The Raz had a knack for simile.
And that's how a small team of Panic programmers went to work making a series of four long-forgotten Atari 2600 games.
Back To Square One
I'll be honest: the games were disasters.
Clearly "inspired" by existing Atari 2600 games, with cringe-inducing graphics (at one point, a tester confused a smiley face for a wagon wheel) and inscrutable gameplay ("Rotate joystick to fire!", read the manual of one), the games, once thought to be the savior of the company, almost heralded its demise.
A March 1982 Electronic Games review bleakly captures the situation: "We can only hope that kids follow Nancy Reagan's advice and 'just say no' to this steaming mound of [Panic Games Software]."
Almost immediately, the entire Panic Games lineup was being discounted at pennies on the dollar at every major retailer.
The rest is history. The games department was shuttered. The cartridges were never seen again (landfill?). The hot tub was sent back. And we thought that was the last of it…
A Surprising Discovery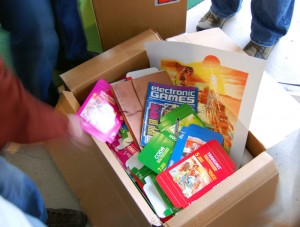 …until now.
Cleaning out an old storage space during the move to our new offices, we were stunned: there, in front of us, were a couple of unopened cardboard boxes containing the last remaining items from this best-forgotten Panic era.
Empty, perfect-condition, never-used game boxes, and amazing heavy promotional posters once given out during a lavish CES party. All seemingly teleported straight from, and smelling a bit like, 1982.
And While This All Might Be Fiction…
…the cool boxes and art posters are definitely real!
Surely one of the more esoteric Panic Art Department side-projects ever conceived: we commissioned local artist Lukas Ketner to try the impossible, and work in a lost art style that literally nobody in the world does anymore.
The concept: what if Panic was around in 1982, and our apps were early Atari 2600 games?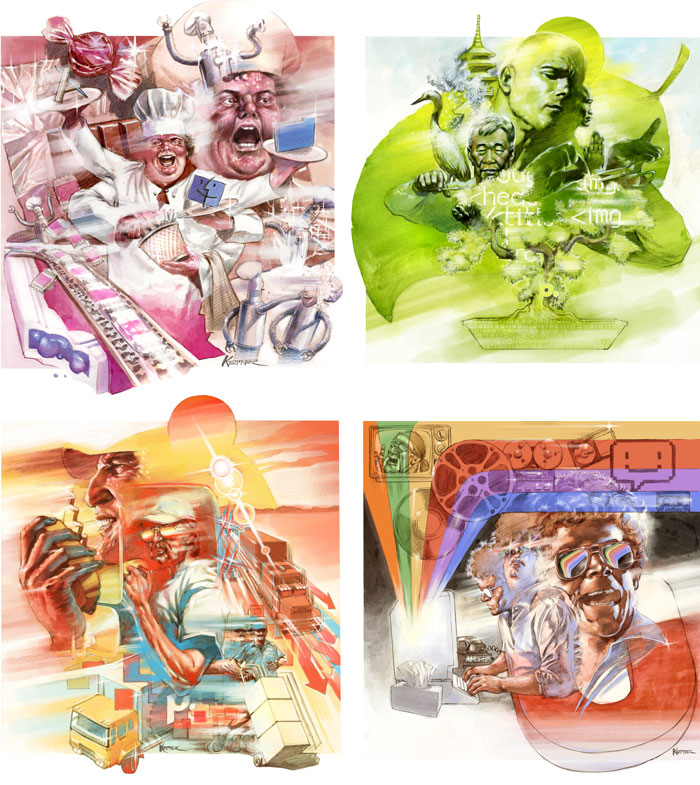 We were so excited by his pitch perfect, early-80's, watercolor-and-pencil, quasi-terrifying, super-montage output, that we just had to make some stuff with it.
And lo, Panic Retro Posters and Panic Retro Boxes are now for sale!
These alternate-universe, time-warped re-imaginings of our Mac apps make for great collectables. They're incredibly detailed and perfectly crafted. And we think you'll like them, even though we realize the intersection in the "Panic Fan" and "Atari 2600 Fan" venn diagram may be very, very small.
(No need to ask: this was an art department project. It did not slow down development of your favorite applications!)