The response to our launch of Transmit 4 this week has been beyond great; I was tearing up a little, reading all the nice things The Internet has had to say about our new little truck app. Thank you all – we're proud of our work and our customers.
Maybe the best message of support and congratulations came about an hour before our midnight release. Long-time friend of Panic Sarah Holbrook delivered her custom-made cards to our loopy, Cocoa-and-Mtn-Dew™ fueled office.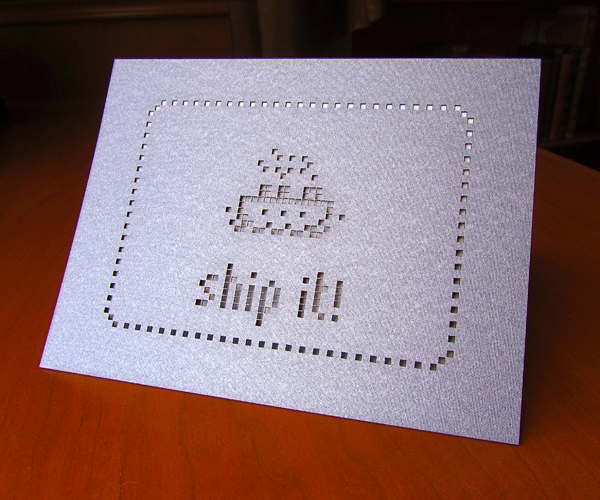 No photo does justice to these silken, intricately detailed, laser-cut wonders. You'll just have to see for yourself; you can do that by ordering some paper magic from Sarah's awesome website, Candyspotting. We're sure glad she invested in that garage-laser!
(Also, see the "Art Department" cut-out-style header at the top of this post? That's not 'shopped — it was literally laser cut by Sarah, then photographed by us; a fun Art Department experiment.)
Thanks, Sarah! And once again, thank you all!
(Sarah's husband Ned — you might remember him from the iPod, Core Text, and Transmit Disk — is pretty great, too.)