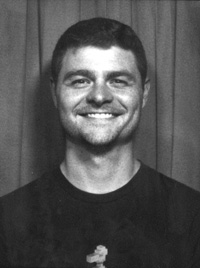 The story of how we hired Ian, one of our Cocoa engineers, is a nice piece of life.
When Panic's headcount was two — me and Steve — the first thing we needed help with was tech support, but the idea of finding and hiring an employee was overwhelming. (It still is, really.) Riding my bike through downtown Portland late one night, a girl flagged me down to ask which bus might take her to her friend's house. My knowledge of Tri-Met is limited to the one line I use and which seats have the least crust, so I — stay with me here — instead suggested we could walk to my car and drive. On the way, she asked me what I did, and when I mentioned computers, she said "Oh, I have a friend at PSU who does computer stuff! He's looking for a job!" I quickly lost touch with Cassie, but Ian has worked for Panic ever since.
After first proving his worth at the often thankless task of tech support while simultaneously taking CS classes at Portland State University, Ian's programming skills gradually grew. Eventually he seemed ready to jump to the next level, so Stattoo was concocted as Ian's first-ever Cocoa app, a chance to cut his teeth without jumping into the frigid waters of a Transmit. Today, Ian is a part of everything, including major pieces of Coda and Transmit. We guarantee you've used his code.
Today is Ian's last day at Panic, after over 10 years of service. What's next for him? Medical school!
I'm sad to see Ian go, but I'm happy to see him follow his heart — how many of us could make such a drastic life change? — and while I love Ian as a Cocoa programmer, I really love the idea of him as a fantastic doctor.
So, here's to your future, Ian! We'll miss you, and we'll be rooting for you always.