This came in the mail today.

May 11, 2010
Dear Panic folk,
When Apple announced that only iPhone apps would be eligible for the Apple Design Awards this year, I was pretty shocked. Every so often we wonder if Apple has forgotten about the Mac in favor of its iPhone OS devices. I really don't think they have, but when they do something like this, it's… well, a bummer. It does seem like most of the new cool apps coming out are iPhone-based, because while where are a lot of fantastic Mac apps, pretty much all the bases are covered at this point.
Still, it's hard to ignore the fact that Transmit 4 just came out, so the timing is less than ideal.
I've been using Transmit since version 2. Before it came along, I had nothing but neutral feelings towards FTP programs. The best I could find was Fetch, and it, frankly, was terrible. I'm not exaggerating in the least in saying that Transmit has changed the way I work, and every version has just made it better. In addition, I could never live without CandyBar, and I love what you guys and The Iconfactory did when it was merged with Pixadex.
All this praise leads me to why I made this ridiculous box. Transmit 4 was a long time coming, and it was well worth the wait. The UI is possibly the best on the Mac, Transmit Disk has instantly proven invaluable to my work, and even the purchasing page on your website is gorgeous. The progress bar and transitions on the credit card icons were something I've never seen, and it proves that no developer pays attention to detail as much as Panic.
So for whatever it's worth, since Apple cancelled the chance for you to win something that I have little doubt you would have won, I humbly present you with, again, this ridiculous Faux Apple Design Award.
And also some Pretzel M&Ms, because Cabel's lamenting over the empty store display on Twitter made me sad, and I wanted to make sure he got to try them.
Anyway, thank you for all that you guys do, and I look forward to seeing what you come out with next.
Michael Salbato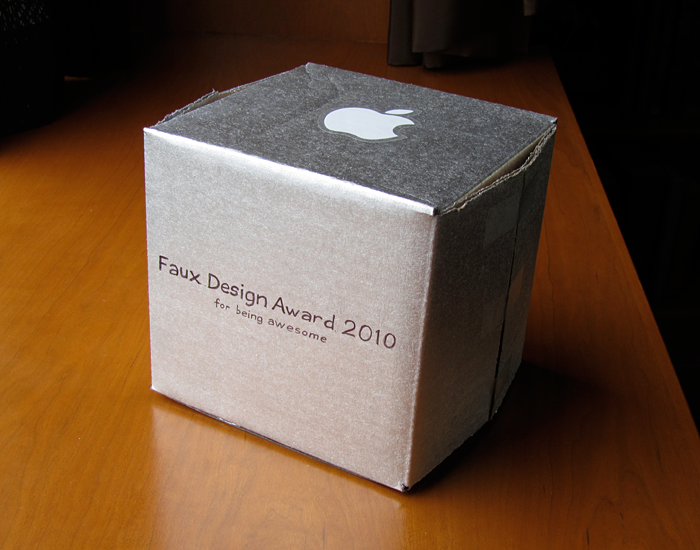 We are very lucky to have such nice users.