A week or so ago, the loose tradition continued: Panic once again took over a Portland movie theater (this time, The Roseway, a classic single-screen neighborhooder that's been massively updated) and invited our friends (and a handful of Twitter pals) to join us for a showing of a movie we're excited about.
This time it was Toy Story 3. And oh, what a great movie. I won't say more. If you haven't seen it, go right now.
This post, however, is just an excuse to show off this beautiful thank-you card we received from a guest: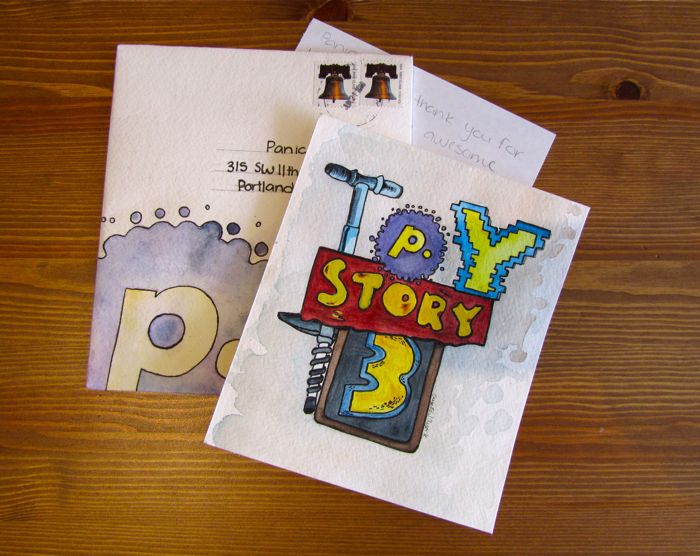 Thanks, Crystal. In our digital universe, it's so refreshing to see some beautiful watercolors on actual paper!
Now, just because you don't live in Portland, doesn't mean you have to miss out on our fun. I've got a special surprise! We're giving away one Toy Story 3 poster — and it's signed by the director, Lee Unkrich!
Be the first in the comments to answer the following Toy Story trivia, and it's yours for the taking.
"Pizza Planet pizza is likely to be delivered in what model of truck, yo?"
UPDATE: Congratulations to Brad in the comments for being the first with the correct answer: it's a Gyoza!