Panic's history pretty much begins with Transmit. This makes it maybe a little weird that for some time now, we haven't had a Transmit shirt in our Goods store. "Why don't you make a new Transmit shirt?" people ask us. Sounds good. Heck, we'll make two!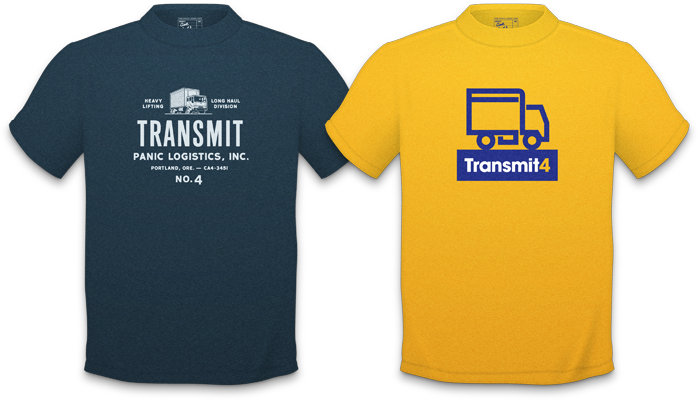 The sincere Roosevelt (left, in hard-working black aqua) speaks to an earlier era of transport and transportation, where hard-working teamsters made sure your things got where they needed to go, on time, and with a smile — sure thing buddy, you have my word. An ultra-soft and comfy poly-cotton shirt.
The optimistic Nixon (right, in brave gold color) reflects the power, promise, and potential of a fossil-fuelled future, shining like a fluorescently illuminated rest-stop beacon on a long stretch of I-5 in 1978, long before the corporate parent re-branded under a much less severe, and much more eco-conscious, green leaf.
Designed by the world-renowned Draplin Design Co. of North America, both of these tees are perfect for moving stuff around – at your computer or literally in person.

Many thanks to our users for joining us on Transmit's eleven-year-long ride!