It's been a super-busy summer at Panic, so we've made sure to fuel our software-development efforts with a steady regimen of freshly prepared office meals. We hope to do one of these every month, and we'd love to inspire your own office cooking adventures. Any questions? Ask away!  And now, our tasty tetraptych:
Ramen.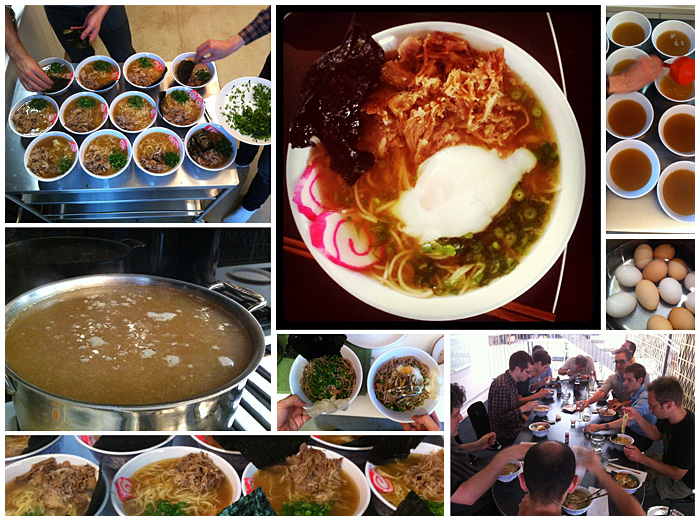 No one doesn't like ramen, right? Propelled by a mild case of bummed-outness at Portland's general lack of awesome ramen houses* and the publication of the first, ramen-centric issue of David Chang's Lucky Peach magazine, we figured we'd take matters into our own hands and cook up a big batch for the office.
We stuck to the Momofuku recipe from Lucky Peach as much as possible, skipping the noodle-making itself. (Yeah, we know it's kind of important, but we wanted to have a bit of breathing room. And, Uwajimaya sells totally nice fresh noodles.) Armed with a big bag of chicken necks and backs, we gathered around the office stove for a whole day as the ramen broth reduced, all five gallons of it. Les made shredded pork on Sunday while I slow-poached eggs in their shells; this is a super-handy method for when you need fifteen poached eggs at the same time.
This was an extremely porky dish, so we served up vegan and pescatarian alternatives for Garrett & Mike: cold sesame noodles with black radish, and the same topped with an egg and dried anchovies (my favorite).
Nobody didn't like it! A very fun – if exhausting – kitchen adventure.
* Since then, the brand-new Southeast joint Wafu has blown our noodle-socks off. On the West side, Shigezo is pretty good.
Miso Corn.

Continuing our Momofuku run, we noticed how darn sweet and tasty the corn was this August. I had previously postulated that the Roasted Sweet Summer Corn from the Momofuku cookbook was their most bang-to-bucky recipe. Simple: cut a bunch of fresh corn, roast it in bacon fat, add miso and butter, then top in a South-meets-East fashion.
Les handled the corn, pre-grilling it briefly to add some char. We then split it between our two largest dutch ovens. (Did we mention it's tricky to cook for fifteen?) For toppings, we went with the shrimp from Momofuku's Shrimp'n'Grits, more poached eggs, a bit of green onion, and a few slices of my dad's homemade, home-smoked sausage. That stuff is my own personal bacon.
Garrett and Mike enjoyed a butter-free, tempeh-topped version. Everyone went nom nom nom. The best part? We ended up with an enormous quantity of corn husk and silk. You do not want to throw this stuff away; instead, make a stock of it. It'll taste of sweet, sweet summer. To make ours portable, we reduced it for three days until five gallons turned to one dark, rich, syrupy quart. This can be diluted to use as stock or you can add use it to make corn ice cream, America's best-kept ice cream secret.
Bao.
Momofuku, take three: pork buns. We were looking for things that could be assembled and served fairly quickly once we're at the office Monday morning (the usual setting for Panic Kitchen events). The buns themselves took a bit of work, but as predicted, our Monday prep was fairly mellow.
Dave joined Les and yours truly for a marathon Saturday of kneading, waiting, and rolling – lots of it, hoo boy. We ended up with exactly one hundred buns, covering every flat surfaces in our office kitchen. If you go bun-making yourself, clean out every table, desk, counter, and shelf you've got – you'll need them all. Les was on pork duty once again, bringing in a simple pork-belly roast, and a version glazed in Cherry Coke. The former was served with hoisin sauce, Dave's garden-grown cucumbers, and green onions; the latter, with pickled mustard greens, ground peanuts, and cilantro. Beer went well with both.
The buns contain milk, and it's pretty much impossible to make fewer than thirty. Thus, the vegan option this time was coconut-rice cakes with Chinese-spiced roasted eggplant and shiitakes, and a papaya salad.
Would we do this again? Probably, and probably only on this scale.
Bánh Mì.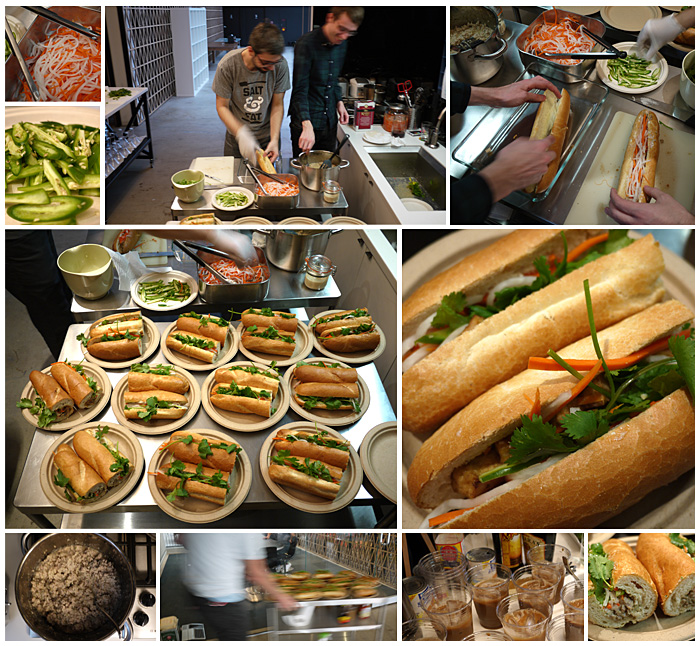 We're big fans of Portland's beat and cheapest Vietnamese-French-sandwich spot, Best Baguette. For this lunch, we wanted to see if we could best them at what they do best.
Les is still probably bummed that we didn't attempt our own baguettes; my feeling was that we could never match – let alone beat – a professional bakery at this. We capitulated and bought our bread from Best Baguette, at approximately $0 or so per person. Our starting point for the recipes needed here was Viet World Kitchen. I took the weekend to pickle the daikon and carrots – more than twice the amount we ended up using, it turned out – and make the mayo. Les porked it up again, steaming a big batch of Vietnamese meatballs. Think about how crazy bánh mì really is – French bread topped with french mayonnaise, jazzed-up, chopped-up Italian meatballs, and Asian pickles. Did we mention it's all served with iced coffee? We got a few cans of Vietnam's favorite brand, Trung Nguyen, and Vietnamese-Nestlé sweetened condensed milk.
Pescatarian option: the classic sardine bánh mì (my favorite). Vegan: lemongrass tofu, miso mayo.
In the end, Greg declared Les' meatballs better than Best Baguette's. Sweet, sweet victory!