You already know Transmit is a wonderful file transfer app, maybe even the best on any platform. It's jammed with features, it's fast, it supports every major cloud storage provider, and it looks awfully nice.
But here's something you might not know: the reasons we never put Transmit 5 in the App Store. They're simple. We weren't sure we could provide a good-enough Transmit experience under the stringent sandboxing security the App Store requires. And frankly, we weren't sure Apple cared that much about the App Store on the Mac.
Since then, a lot has changed. macOS Mojave gave us a significantly improved App Store that caters to professionals like yourself and seems to treat apps with respect. And sandboxing has evolved enough that Transmit can be nearly feature-parity with its non-sandboxed cousin.
So, as we promised at WWDC: it was time to give this another go.
You can now get Transmit 5 on the Mac App Store!
But, there's a twist…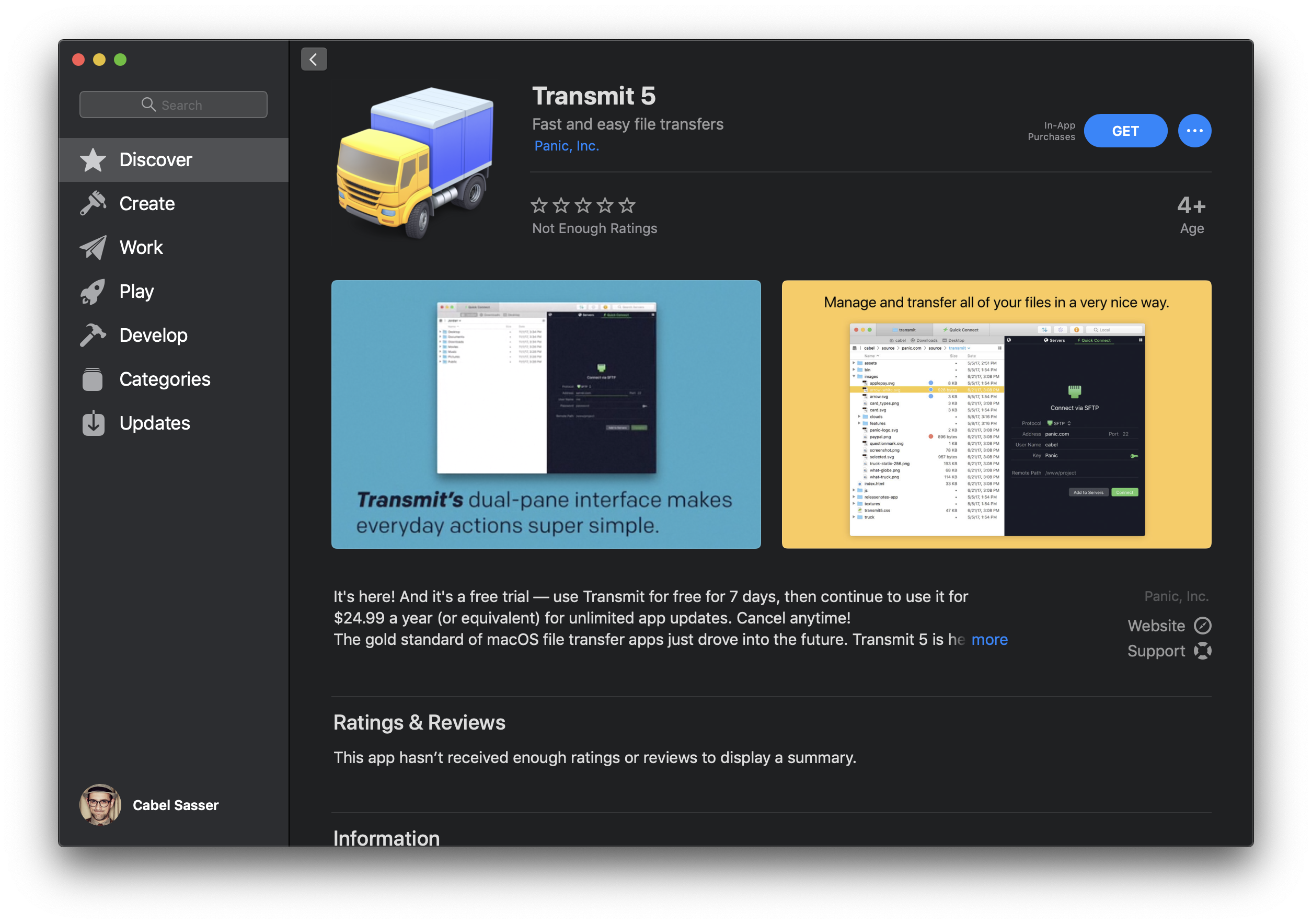 The Twist
Transmit from the Mac App Store is a subscription — just $24.99 a year. Included with your subscription is Transmit, access to Panic Sync, and any major Transmit updates that we may release in the future, all rolled into a convenient yearly charge. There's even a free 7-day trial before your subscription kicks in. And, of course, you can cancel at any time.
If you don't like subscriptions, don't worry! You can still buy Transmit 5 directly from us. It's still $45. It will still include free minor updates. And you get the same support as a subscriber would.
The choice is yours. Love the App Store? Subscribe today. Don't like subscriptions? Buy it directly from us. Everybody wins! (Almost.)
There's a little something in it for us, too — a chance to learn about the subscription business and see how, if at all, it can impact our decisions moving forward.
FAQ
Wait, so I have to subscribe to Transmit now?
No, my post-skimming friend, you don't. While Transmit in the App Store is a subscription, you can still buy Transmit 5 directly from us at full price and own it forever for just $45.

How much does the subscription cost?
$24.99 a year.
Is there a free trial?
Absolutely. When you install Transmit from the App Store, on first launch you're given 7 days to use it as much as you want, without restriction, until the subscription kicks in, and you can cancel during the trial (here) if it doesn't work for you. It's really simple and should give you more than enough time to demo the app and make sure you love it.
What's included with the subscription?
Transmit, Panic Sync, and frequent updates, of course. But you'll also automatically get any major updates we release in the future as long as you remain subscribed.
I already bought Transmit 5. Can I switch to the App Store version?
If you bought Transmit 5 in the last 60 days, we can refund your purchase if you'd like to subscribe instead. Simply e-mail our support team. Beyond that, it's gets really difficult, particularly as the prices are so different.
Hey, what if I love the App Store but strongly dislike subscriptions?
Yeah, that's the one bummer zone in our plan — we're sorry. But we believe the App Store is suited particularly well for subscriptions, and we're always looking for a sustainable future building our complex applications.
Does it have the same features as regular Transmit 5?
Yes, it does! With one small exception — "Open in Terminal" depends on AppleScripting the terminal, which isn't possible with sandboxing (yet). But even viewing or editing or changing the permissions of files you don't own is now possible, which wasn't until very recently.
What about Transmit Disk?
It's not in this initial release, but stay tuned.
Any other differences in the App Store version?
For security, you have to manually "Choose" any local folders in the file browser that you want to navigate to. However, Transmit will remember the highest-level folder you've chosen, so over time you'll have to do this less and less. (And here's a pro-tip for all the FAQ readers out there: just drag your hard drive to the "choose a folder" view to unlock your entire drive and never be prompted again.)
If my subscription lapses, do I lose my sites/favorites?
Absolutely not. If you use Panic Sync, your sites are safely stored in our spacious, welcoming cloud, and you can sync them down in the future, even to non-subscription Transmit. And if you don't use Panic Sync, as long as you don't delete Transmit's application support files, they'll be there waiting for when you re-subscribe.
Will Transmit 5 support iCloud for sync?
We're not planning to. We know it's a bit of a bother to manage another account, but we really value the ability to debug syncing problems directly.
What about Coda in the Mac App Store?
Sadly, Coda cannot be sandboxed yet. We're hopeful for the future.

Oh and hey while I've got you on the line where's Coda 3?
? (More on Coda soon!)
---